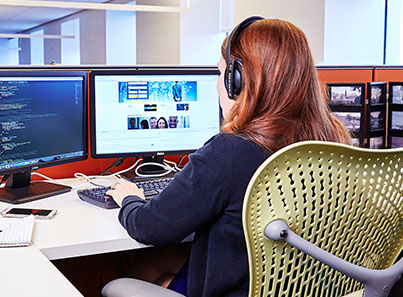 Technology Careers
Solve huge software and technology challenges. Work on our scalable, evolving platform. And tackle projects for multiple Fortune 100 clients. Here, you can transform how companies connect with talent. This is the ever-changing world of candidate recruitment, and your amazing coding skills will be in the middle of it all.
Whats It Like at TMP
Hear from team members across TMP's technology department.
What gets you excited about coming into work?
Challenging work. 99.9% is not good enough! The process demands 100% data verification coverage. This has caused me to dig deep into the world of integration tests, developing a process where every change in data can be identified and building a complex process that generates the expected results every time.
What's your day like?
There is no such thing as a typical day. My week can range from meeting with development teams in Russia to talking to our analysts in Chicago or creating dimensional models for our data warehouse with SSIS/C# to scripting out our pipeline with Luigi/Python.
What's unique about working here?
TMP is very pro-user. Its support for standardized design and development are rare in a world where many agencies are more concerned about winning awards.
What do you like about our Tech and Software Stack?
Our primary tools – Visual Studio and the C# language – are the best in the industry. But we also have the opportunity to work outside of the traditional .NET stack, with platforms like MongoDB and Redis.
Benefits
We understand that job fulfillment comes from job support. That's why we offer a comprehensive benefits package that includes:
21 days of PTO during your first year of employment (10 Company Paid Holidays and your Birthday)
Health, Dental & Vision coverage for you and your family
Short and Long Term Disability coverage and Basic Life Insurance for you
Competitive Compensation Package
401(k) Plan
Monthly team leisure events
Great coworkers