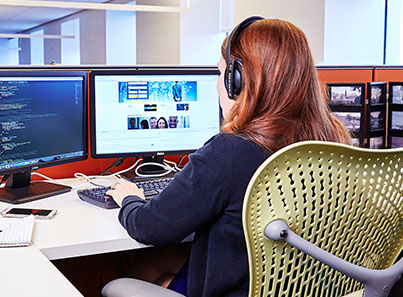 Digital Strategy Careers
BIG-PICTURE THINKERS. BOUNDLESS EXPLORERS. HANDS-ON LEADERS. That's our Digital Strategy team at TMP.
Can you explain the complex in simple ways? Understand the importance of keeping yourself and your client educated? Then you'll fit right in with our diverse group of self-starters, leveraging our love of all things social and mobile, and harnessing the power of digital media to transform the way employers and job seekers connect.
What does it take to be successful?
See the traits we look for in a candidate and think about some of the situations
our Digital Strategists encounter every day. Do you have the answers?
Traits
Technology Savvy
Analytical
Goal and Detail Oriented
How would you explain AdWords to a non-tech savvy client?
Imagine you're a music venue promoter selling tickets to a concert. Explain the advertising funnel and how Facebook fits into it.
What's Instagram's value proposition to its advertisers?
When building an effective digital strategy, how would you distribute budget amongst the following teams: Creative, Inbound Marketing, SEO, Paid Media, Social and Analytics?
Hear From A TMP Expert
"It's all about being on the pulse of what's new and what's next."
Benefits
We understand that job fulfillment comes from job support. That's why we offer a comprehensive benefits package that includes:
21 days of PTO during your first year of employment (10 company-paid holidays and your birthday)
Health, Dental & Vision coverage for you and your family
Short and Long Term Disability coverage and Basic Life Insurance for you
Competitive Compensation Package
401(k) Plan
Access to industry-leading subject matter experts
Great coworkers